read in english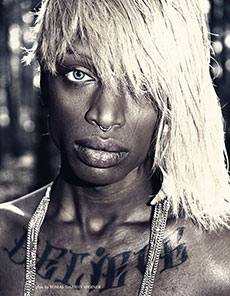 Demetri Betts (* 26. April 1973) ist ein amerikanischer Singer-Songwriter, Musiker, Autor, Tänzer, Motivationstrainer, Philanthrop, Model und ehemaliger Rave- und Club-Promoter. Sein Karriereweg führt von 1997 bis heute. In diesen Jahren hat Demetri Betts 5 Musikalben, 2 Buchserien und ein Magazin herausgebracht und gründete die Hilfsorganisation "New Chance International". Auf YouTube machte er sich einen Namen mit zahlreichen Hilfsvideos für Jugendliche. Demetri Betts ist ein christlicher Künstler, was aber die wenigsten seiner Fans wissen. Aufgrund seiner Musik und seines ausgefallenem Tanz- und Kleidungsstils wird er oft der Micheal Jackson der christlichen Musik genannt.
1973 bis 1989: Kindheit und Jugend
Geboren in einem Gefängnis in North Carolina von seiner wegen Diebstahls inhaftierten Mutter, bekam er den Namen Antonio Emanuel Albernathy. Er wuchs in Pflegefamilien auf und wurde im Alter von 3 Jahren von dem Ehepaar Lester und Patricia Betts adoptiert. Am Tage seiner Adoption in die Familie Betts traf er seinen echten Halbbruder Donovan. Die Familie Betts adoptierte sie beide in der Hoffnung, die Brüder beisammen zu halten. Im Zuge der Adoption wurde sein bürgerlicher Name in Antonio Demetrius Betts geändert, mit dem Spitznamen Tony. Das glückselige Zuhause endete, als Vernachlässigung und Kindesmisshandlung Einzug hielten. Im Jahr 1980, als Tony 7 war, brachte das Jugendamt Donovan zurück in eine Pflegefamilie. Dies war sehr niederschmetternd für Tony, und es vergingen acht Jahre, bis er seinen Bruder wiedersah. Auch Tony wurde im Alter von 12 wegen Vernachlässigung und körperlicher Misshandlung vom Ehepaar Betts entfernt. Nachdem sie ihre elterlichen Rechte abgetreten hatten, wurde er wieder ein Waise und bis zu seinem siebzehnten Lebensjahr vom Staat North Carolina aufgezogen. Im Jahr 1989 traf Tony seine biologische Mutter Paulette, die ihn jahrelang gesucht hatte. Während des Treffens erklärte ihm Paulette, warum sie sich nicht um ihn hatte kümmern können und bat ihn um Vergebung. Sie erzählte ihm auch die Geschichte seines Halbbruders Donovan und dass sein echter Vater nicht wüsste dass es ihn überhaupt gibt. Am Ende ihres Treffens erzählte sie ihm, sie hätte Krebs. Zwei Wochen später starb sie. Die Misshandlungen und das Leben als Waise trieben Tony schließlich auf die Straße, wo er begann, Drogen zu nehmen.
1989 bis 1997: Drogen, Depression und Obdachlosigkeit
Bevor Tony auf der Straße landete, hatte er nie Drogen genommen, Zigaretten geraucht, Sex gehabt oder Alkohol getrunken. Er blieb "unschuldig" bis zu seinem 20. Lebensjahr. Auf der Straße gab es andere wie ihn, Leute, die aus der Gesellschaft oder aus ihrer Familie ausgestoßen worden waren. Tony liebte seine Straßenfamilie und glaubte, dieses Leben wäre gesund und gut für ihn, doch in Wahrheit war es eine Katastrophe. Sein täglicher Drogenmissbrauch nahm immer mehr zu. Er begann zu stehlen um zu überleben. Oft schlief er auf den Sofas seiner "Freunde", manchmal auch einfach auf dem Boden, ohne Kissen oder Decke. Es war immer noch besser, als auf der Straße zu schlafen. In dieser Zeit nahmen auch Depression und Einsamkeit zu. Er war stark selbstmordgefährdet und dachte jeden Tag darüber nach, sein Leben zu beenden. Weihnachten und sein Geburtstag waren die härtesten Zeiten. Er hatte keine Familie, mit der er feiern konnte, und niemanden kümmerte es, ob er lebte oder starb. Daher bedeutete ihm sein Geburtstag nichts. In einem Jahr vergaß er ihn sogar selbst. Er sah keinen Wert in seinem Leben. Mehrere Suizidversuche scheiterten. Er landete immer wieder im Knast und in der psychiatrischen Klinik. Aber die psychiatrische Klinik behielt ihn nie lange und half ihm nicht, da er nicht krankenversichert war. Er wurde in die Rave-Szene eingeführt. (Eine Tanzclub Veranstaltung mit elektronischer Musik, üblicherweise mit vielen Drogen, besonders der Liebesdroge Ecstasy.) Tony wurde verrückt nach der Droge Ecstasy und Rave Partys. Die Rave-Szene und die Drogen gaben ihm das Gefühl von Akzeptanz und Liebe. Er begann Ecstasy, LSD und Marihuana zu verkaufen. Er war weg von der Straße und teilte Wohnungen mit seinen Rave- und Drogenfreunden, die er seine Familie nannte.
1997 bis 1999: Diva CoCo Brown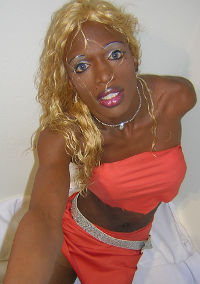 Tony änderte zwischen 1997 und 1999 seinen Künstlernamen in Demetri, übernommen aus seinem bürgerlichen Zweitnamen Demetrius. Er wurde in einer Schwulendisco von einem Mann entdeckt, der ihm erklärte, er sei hübsch genug, um Drag Queen zu werden. Das war überaus merkwürdig für Demetri, weil er sich noch nie attraktiv oder hübsch fand. Als Kind wurde er wegen seines dünnen Körpers und seinen vollen Lippen gehänselt, und die Ablehnung quälte ihn. In dieser Nacht wurde er mit einer Drag Queen bekannt gemacht, die später seine Drag Mutter wurde und ihm beibrachte, sich wie eine Frau zu bewegen, zu sprechen und auszusehen. Demetri hatte schon immer das Bedürfnis zu singen. Als Kind gab ihm das Singen Trost, und als er obdachlos auf der Straße war, sang er, um den Schmerz zu lindern. Er schrieb auch sehr viel. Seine beiden großen Träume waren es, zu singen und zu schreiben. Als Drag Queen singt man üblicherweise mit Playback. Dies tat Demetri und gewann mit seinen Auftritten mehrere Wettbewerbe. Aber seine größte Sehnsucht war es, seine eigene Stimme zu benutzen. Demetri hatte sich selbst nie als schwul gesehen. Er hatte immer Freundinnen gehabt. Doch während seiner Zeit als Diva CoCo Brown, sein Künstlername als Drag Queen, führte er eine bisexuelle Lebensart. Diva CoCo Brown wurde schnell bekannt und eine lokale Berühmtheit in der Schwulen- und Rave-Szene. Sie begann, ihre eigenen Rave-Partys zu veranstalten und trat als Drag Queen in umliegenden Clubs auf. Sie handelte auch mit Drogen und verkaufte fast jede verfügbare legale und illegale Droge.
1999 bis GOTT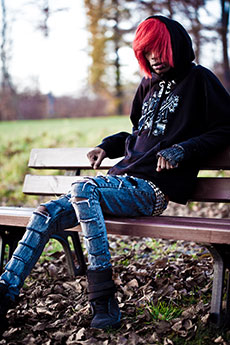 Demetri Betts sagt, er hatte eine Begegnung mit Gott, die ihn veränderte. Rivalisierende Drogendealer warfen eine Bombe in sein Haus, und er verlor alles außer seinem Leben. Er ging zu seinen "Familien"-Freunden und fragte nach einer Bleibe. Jeder lehnte ihn ab. Diva CoCo Brown war obdachlos. All die Gefühle der Ablehnung, Depression und Einsamkeit kamen wieder hoch. Demetri beschloss erneut, sich das Leben zu nehmen. Mitten in seinem Selbstmordversuch, so Demetri, offenbarte sich ihm Gott, und dies zu einem Zeitpunkt, wo er nicht an Gott glaubte. Demetri sagt, Gott sprach zu ihm und sagte, dass er einen Plan für ihn hätte, dass er immer geliebt und nie allein wäre. Demetri empfand, dass diese Worte ihm ins Herz gesprochen wurden. Kurz darauf kam eine Frau vorbei und fragte ihn, ob er einen Platz zum Wohnen habe. Sie erzählte ihm von einer Kirche, wo er die Nacht verbringen könne. Demetri schlief dort viele Nächte. Der Pastor wurde auf ihn aufmerksam, und die Kirche half ihm, eine Wohnung zu finden. Demetri beschloss, eine letzte Show als Diva CoCo Brown zu machen. Er wollte die Rave-Szene vor dem Drogenmissbrauch "retten". Die Veranstaltung war total gefüllt, alle warteten auf die Rückkehr von Diva CoCo Brown. Aber sie kam nicht. Demetri kam auf die Bühne, und als sie ihn ausbuhten, begann er ihnen über Gott zu erzählen und wie schlimm Drogen seien und dass Ecstasy keine echte Liebe sei. Nach seiner kurzen Rede lief er davon. Der DJ begann zu spielen, und die Leute tanzten. In der Umkleide begann Demetri seinen Auftritt anzuzweifeln. Dann klopfte es an der Tür. Es war der Club-Manager. Er sagte ihm, jemand wolle mit ihm reden. Demetri öffnete seine Tür und sah viele Leute mit Tränen in den Augen. Ein Mädchen sagte zu Demetri: "Ich kann nicht glauben, dass Gott mich hier gefunden hat." Dies war der erste Tag seiner Zukunft, oder wie er es nennt, seiner Bestimmung. Demetri begann in vielen Jobs zu arbeiten. An einem Punkt hatte er drei Jobs. Einer davon war als Schichtleiter bei BurgerKing. Er nutzte sein Geld, um zu schreiben, Musik aufzunehmen und es an Hilfsorganisationen zu spenden.
Gegenwart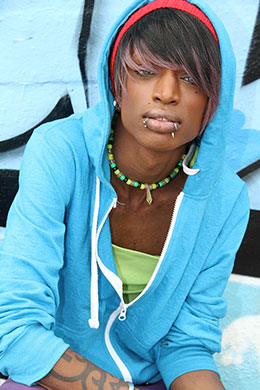 Demetri Betts eröffnete eine Entzugsklinik, mehrere Hilfsorganisationen, veröffentlichte das Magazin "Fabulous", eine YouTube Show namens "Don't give up" und "Behind the Scenes with Demetri Betts". Er veröffentlichte 4 CDs bei Profimusic Switzerland. Phenomenal, Candy World, Sideways und I Believe. Über ihn wurden unzählige Fernsehbeiträge und Zeitungs- und Magazinartikel geschrieben. Er ist seit 2002 verheiratet mit der Bestsellerautorin Damaris Kofmehl, die zwei Bücher über sein Leben geschrieben hat: Tony Brown und Tödliche Schuld, die beide Bestseller sind. Zusammen haben sie 7 Bücher veröffentlicht, die Dark City-Serie und die Jack Ross-Serie. Eine neue Fantasy-Serie ist am Entstehen. Zusammen gründeten sie die Hilfsorganisation New Chance International. Demetri Betts findet man heute das ganze Jahr unterwegs auf Tournee mit seiner Musik und seinen Motivationsreden in Schulen, Gefängnissen, Waisenhäusern, Kirchen und natürlich auf seinen Konzerten.